Solutions for Designing and Building a Riding Arena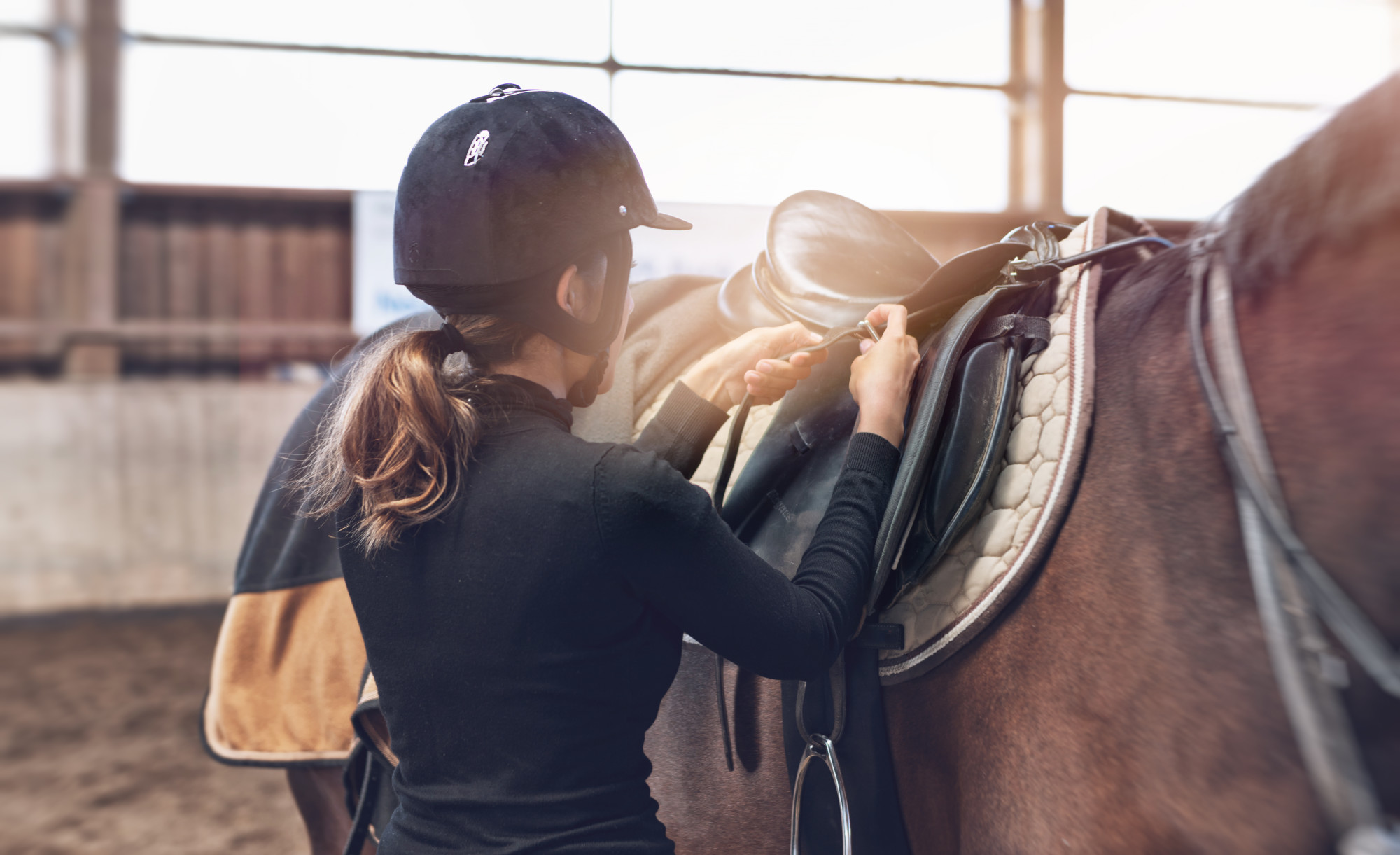 If you own horses, you'll know that rainy days bring mixed emotions. On the one hand, rain means your pastures will flourish, which means less hay to buy. On the other, wet slippery ground means that riding may be out for a day or two.
Most areas in the USA have around 100 days of rain a year. That means raindrops are bound to fall at least once every three days.
If you love riding and training your horses, the only way to get around the rainy day blues is by installing a covered outdoor riding arena. That way you can continue enjoying your sport no matter what.
A riding arena is an investment that pays for itself over and over again.
Why Build a Riding Arena?
Apart from extra days of riding when the rain falls. A horse arena has a few more benefits you should know about:
Young, excitable horses are much easier to control in the confined space an arena provides.
Your horses will learn more and remember it better when they're kept working regularly.
You can train for an upcoming competition no matter what the weather brings.
Rain, snow, or shine, the surface of an undercover arena stays dry, soft and safe to ride in.
Very hot days won't keep you out of the saddle when you have a shady place to ride.
You can always practice your jumping and barrel racing courses undercover.
If you're a professional horse trainer or riding instructor, you'll never lose out on income because of the weather.
When you think of a riding arena, you probably picture an Olympic sports facility or an upmarket manege as found in the poshest stable yards. Yet, an undercover arena doesn't need the grand dimensions and huge construction costs you have in mind.
Here's how to build an outdoor horse arena on a budget.
Designing Your Arena
Whether you're looking to install a county fair facility or an at-home riding area, you'll do well to consider a pre-engineered building in your design.
What Is A Pre-Engineered Building?
Pre-engineered metal buildings consist of a structural system and a roof, with or without wall cladding.
The structure consists of rigid frames made from plate steel that's manufactured into an 'I' shape. Each frame consists of roof beams and columns that are usually bolted together on site.
The beauty of this design is that each frame can span a large area without any supporting columns. This leaves free space on the ground for equestrian activities or other sports.
Secondary purlins, bolted perpendicular to the frame, ultimately support the roof.
Once this skeletal structure is in place, supporting structures called girts fill in the gaps to support the wall cladding system. These buildings are structurally sound with or without walls and may have low walls, full walls, or none at all.
These structures have several benefits that you may not have considered:
Time Savings
Arena construction is a lengthy process. Especially when you take into consideration the time taken from design until the first time you ride in it. You can reduce this time frame considerably by choosing a pre-engineered building, thanks to several factors.
Pre-engineered buildings consist of tapered built-up sections and pre-cut components. They're put together according to pre-determined diagrams with clearly designated numbers.
Sophisticated software programs design and produce these diagrams at high speed. Thanks to this technology, design customizations take place almost instantly.
Pre-engineered buildings contain mostly standardized pre-ordered raw materials. So there's no waiting around for stock.
A highly sophisticated production line uses all the latest tech like auto welders, shear cutting machines, and multi-cutting torches to manufacture the necessary components at lightning speed.
Usually, buildings arrive on site just a few weeks after the client approves the design drawings. Everything, down to the last bolt, arrives ready for erection.
Flexible Design Options
Standard sections and connections mean that you can easily manipulate the design of a pre-engineered building by moving components around. There's almost no limit to the type of constructions you can put together in this fashion.
You can add canopies, fascias, eaves, doors, and windows if you want to. You can leave off the walls, although most horse owners choose partial skirt walls for their arenas.
Pre-engineered buildings are suitable for a variety of applications. You can design a ranch building, a trendy barndominium, a classroom or even a church using these design principles.
With the help of specialized computer software, it's even easier to create your own custom arena. So much so, you can even do it online. Go to this page and try it out yourself.
Affordability
Since pre-engineered buildings are easy to erect, it takes fewer people less time to put them up. A lot of the work's already done by the time the components arrive onsite.
There's no welding involved and everything's bolted together. The framed openings arrive from the factory pre-punched and good to go. That means reduced labor and time costs.
The standard raw materials involved in pre-engineered structures rarely change. As a result, they're ordered in bulk, meaning even more savings.
Pre-engineered Buildings are lighter than conventional steel structures, so you don't need complex, deep foundations to support them.
Low Maintenance
Not only will your metal pre-engineered building save you money at the outset, but you can also look forward to additional savings going forward too. Steel buildings are extremely rust-resistant and strong. For added protection, you can paint your PEB in any color you choose.
Pre-engineered buildings last a long time. As long as you choose a reputable manufacturer and installer for your riding arena, it will stand firm during hurricanes, snowstorms and anything else Mother Nature throws at it.
Environmental Benefits
Whether we like it or not, global warming is a fact of life nowadays. You can rest-assured that pre-engineered buildings are an eco-friendly choice, usually containing over 90 % recycled materials.
What's more, it's easy to customize your arena to be more environmentally friendly. PEB's often have insulation in the form of rigid boards that help keep heating and cooling costs down. You can also choose a low-profile rood and paint it so that it deflects or absorbs the sun's rays, further reducing your reliance on fossil-fuel-guzzling airconditioners.
An energy-efficient building is first-prize during cold or hot weather, keeping your arena at a comfortable temperature year-round.
How Big Should Your Arena Be?
The first thing you need to think about when designing your riding arena is size. This will depend on the space available, what you intend to use it for and your budget.
Expert horsemen recommend a minimum of 60 ft wide by 120 ft long. This is the standard size of a small dressage arena, which can be a tight squeeze for other equestrian sports.
A width of 80 to 100 ft is suitable for most purposes. After that, rather increase the length of your arena if you want more space. If you go with a pre-engineered structure, you can stretch your arena out for as long as you want but most manufacturers have a width limit of around 140 ft.
With regard to height, about 16 ft is the norm but you should increase this by a couple of feet if you'll be jumping. If you go too high, your town planner could classify your arena as a commercial structure or professional riding arena, and that attracts more paperwork.
Doorways should be a minimum of 13 to 15 ft high and at least 16 ft wide.
If you have space, it's tempting to go with the biggest arena you can afford. Remember the larger your arena, the more it's going to cost to maintain the footing and install lighting. You can always add on to it later if you really need to.
Building Your Indoor Arena
Choose a location for your arena that's already level and smooth. This can save you a lot of money when it comes to preparing your site before construction. Site-excavation and leveling aren't cheap.
A naturally level spot also has less run-off. Avoid areas that get muddy after a storm. That water will be flowing into your arena in the future, which means you'll have to install extra drainage systems to avoid flooding.
It makes sense to choose a location as close to your stables as possible. You'll want to stay warm and dry on the way to and from your arena.
Like any construction, you'll need a building permit to get your arena off the ground. Apply well in advance, as the powers that be will require a lot of information before they grant permission.
Land zoning, environmental sensitivity, stormwater management, and soil testing are a few of the things they'll want to investigate. The process can take as long as a year, although the norm is about 3 months.
Some towns will allow you to proceed without plans if the arena is for personal use. However, it's best to get all the relevant paperwork in place if you want to obtain insurance for your building.
Choosing the Footing
When you have an undercover arena, your footing's protected from the elements which means a lot less hassle due to rain and sun. That means you can choose from any of the most popular substances available today.
If you decide to go with sands, choose a mix made of grains of varying sizes. Crumbly sand creates dust, and sand with round grains can be slippery. Medium coarse sands are best. It's worth getting expert advice on your arena footing since it's difficult and expensive to replace once installed.
Extra Touches for Your Horse Arena
After you've decided on the basics, there are a few extras that can make riding in your arena even more convenient and pleasurable. These are:
Cupolas
If you decide to go for an enclosed arena, a cupola or two will give you great ventilation. Besides that, they add a lot of aesthetic appeal to your building. If you decide on an arena with partial walls, you don't need any extra ventilation.
Sliding Doors
Big sliding doors are great for easy access while on horseback as well as transporting jumps in and out of the venue. If you're using a small tractor to rake your footing, they're essential.
Weather Protection
Be sure to screen high traffic areas, like entrances, from rain and snow. You don't want muddy, swampy holes anywhere in your arena.
Rider Guard
A rider guard gives your arena a polished look and adds an extra safety feature to the interior. These guards help establish space between the edge of your arena and the riders' legs and feet, which can prevent nasty accidents.
Side Lights
It's cheaper to install and maintain sidelights than it is to care for skylights. You can also make them much wider to bring in more outside light. Sidelights are also preferable to electric lights which come with a risk of an electrical fire.
Vapor Barrier
An insulated roof looks good, prevents condensation, and minimizes the noise from rain and wind. If you've ever been inside a metal-roofed building during a downpour, you'll understand why this is important.
Where to Shop for Pre-Engineered Buildings
Choosing a reputable manufacturer is the best way to ensure you end up with a riding arena that's guaranteed to bring you enjoyment for many years to come.
Get in touch to discuss your needs or for more information. Before you know it you could be the proud owner of a riding arena that perfectly suits your needs.