About Rapidset Buildings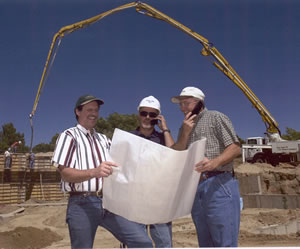 Everyone at RapidsetBuildings is committed to delivering the best value in steel buildings for our customers. For projects ranging from workshop buildings to large warehouses, RapidsetBuildings customers benefit from our knowledgeable staff and our belief that customers deserve to receive courteous and timely help through every step of the process, from planning a purchase through assembling a building.
Company Facts
SteelBuildingSupplier.com is the name we used starting out but found it was hard to call our building "The SteelBuildingSupplier Building" as a brand. We still have the site SteelBuildingSupplier.com web site which will explain who we are but Rapidset is our building. When you want to do research on us or purchase a building either name will work.
We also have many other web sites that bring in leads for specific types of buildings like; hangarbuildings.com for hangar, warehouse-buildings.com for warehouses, industrial-buildings.com for industrial style building and many others you can find as links on our links page.Guys that started Rapidset Buildings
SteelBuildingSupplier.com / Rapidset Buildings have been sold and delivered to customers in almost every state and many international destinations.
Building sales, design, engineering, detailing, assembly drawings and shop drawings are done at the operations office located in Colorado Springs, Colorado.
We contract with top manufacturers throughout the United States to fabricate or provide the materials for the buildings that we design. Volume purchasing results in cost savings that we in turn pass along to our customers.
Our investment in information technology benefits our customers by keeping our operational costs as low as possible.
Between them, the company owners have nearly 50 years experience in building contracting and construction.
SteelBuildingSupplier has origins dating back to 1992 when Plumbline Commercial Builders was started in Colorado Springs. SteelBuildingSupplier.com was incorporated as a separate company in October 2000.
Contact Rapidset Buildings
We ship from 36 locations across the United States, UAE and India
Rapidsetbuildings.com
3555 N Prospect St.
Colorado Springs, CO 80907

Toll-free: 800-793-8555
Local: 719-268-1325
Fax: 719-599-9382